60+ firearms.
collections in the U.S., switzerland, russia
17 SUBJECT MATTER EXPERTS.
360 PAGES OF INSIGHT.
Now Available
VICKERS GUIDE: KALASHNIKOV
(Volume 1)
 
VICKERS GUIDE™ IS A ONE OF A KIND TOUR OF SOME OF HISTORY'S MOST INTERESTING AND RARE FIREARMS, SOURCED FROM PUBLIC AND PRIVATE COLLECTIONS ACROSS THE GLOBE.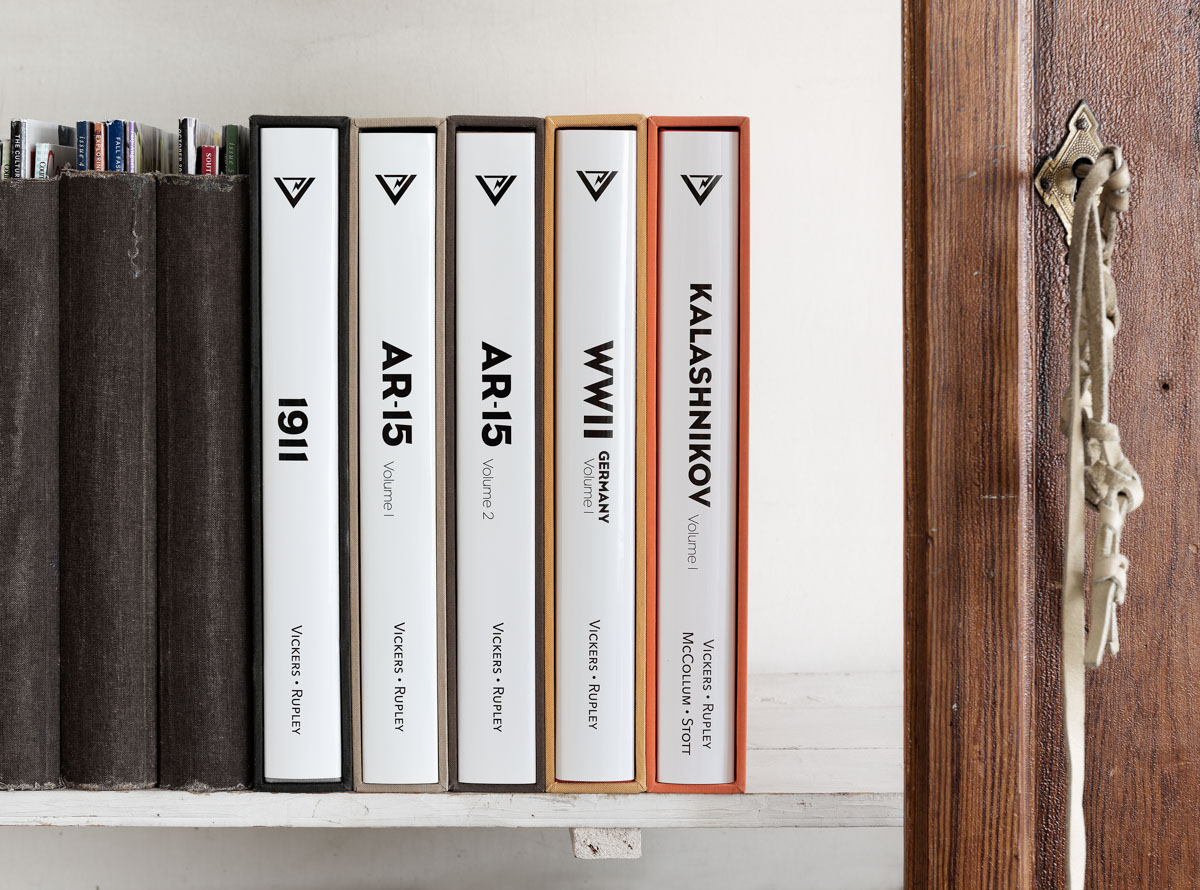 FEATURES
Vickers Guide: Kalashnikov (Volume 1) is a premium quality, collector's grade, coffee table reference book. All books contain the following features:
360 pages
13" wide by 11" tall (approx.)
Commercial quality, section sewn style binding which allows the book to lay open flat
Full color prints on premium quality photo paper stock
Foil stamped, red linen hardcover
Full color protective dust jacket
Ribbon page marker
In addition to the above Standard Edition, two premium versions of the book are available:
Signature Version
Hand signed by Larry Vickers
Limited Edition Premium Version (Limited to 250 Books)
Personal Message Hand Written and Signed by Larry Vickers
Limited Edition Slip Case (x of 250)
Limited Edition Numbered Signature (x of 250)
BOOK SUMMARY
With a history stretching back to the closing days of the Second World War, the Avtomat Kalashnikova Model 1947, or AK-47 as it was to become known, transformed the modern day battlefield. Its simple, yet robust, design has permitted the AK-47 to perform effectively in practically any environment and in the hands of users with little to no training. Championed during the Cold War as an instrumental tool in the overthrow of colonialist and capitalist governments, the AK-47 (along with its underlying technology and tooling) was to become one of the Soviet Union's most important exports. It would go on to play a central role in combat circling the globe, and has become the unofficial service rifle of "the insurgent."
Interestingly, production of the AK-47 was relatively short-lived, as it very quickly underwent a growing number of design changes. By 1959, the "modernized" version of this rifle was born in the form of the AKM, and this platform would continue to evolve in the Soviet Union and in the hands of the various members of the Warsaw Pact and beyond.
This First Volume of Vickers Guide: Kalashnikov covers the history and development of the wide range of 7.62x39mm variants of the AK-47/AKM family of rifles around the world – from the Soviet Union and Russia to Albania, Bulgaria, China, East Germany, Egypt, Hungary, Iraq, North Korea, Pakistan, Poland, Romania, Vietnam, and Yugoslavia. In all, over sixty firearms are shown in incredible detail to give readers of all levels a new appreciation for this extraordinary firearm.
To properly cover this monumental topic, Larry Vickers and James Rupley assembled an international team of subject matter experts, including Ian McCollum of Forgotten Weapons and Rob Stott of The AK-47 Catalog, and traveled a record number of miles to visit collections in the U.S., Switzerland, and Russia. Vickers Guide: Kalashnikov presents this highly curated collection of firearms in never before seen detail on larger than life, wide format, full color prints in a linen covered hardback. Vickers Guide: Kalashnikov is the next best thing to having these exceptional collector grade firearms in your own personal collection.
Vickers Guide: Kalashnikov gives the firearms enthusiast an extraordinarily detailed view of this historic category of firearms.
Vickers Guide: Kalashnikov will be at home on your coffee table, workbench or bookcase. It is art for your living room. It will serve as a fantastic guide for your own firearm collecting. It will make a lasting impression. Most importantly, Kalashnikov will serve as a lifelong reference book.