70+ firearms and other weapons.
multiple private collections.
13 SUBJECT MATTER EXPERTS.
376 PAGES OF INSIGHT.
Now Available for PRE-ORDER
VICKERS GUIDE: WWII GERMANY
(Volume 2)

VICKERS GUIDE™ IS A ONE OF A KIND TOUR OF SOME OF HISTORY'S MOST INTERESTING AND RARE FIREARMS, SOURCED FROM PUBLIC AND PRIVATE COLLECTIONS ACROSS THE GLOBE.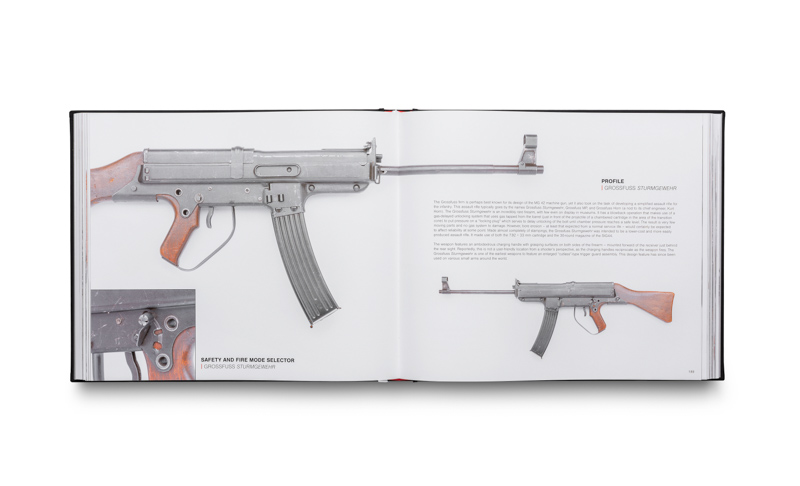 FEATURES
Vickers Guide: WWII Germany (Volume 2) is a premium quality, collector's grade, coffee table reference book. All books contain the following features:
376 pages

13" wide by 11" tall (approx.)

Commercial quality, section sewn style binding which allows the book to lay open flat

Full color prints on premium quality photo paper stock

Foil stamped, black linen hardcover

Full color protective dust jacket

Ribbon page marker
In addition to the above Standard Edition, two premium versions of the book are available:
Signature Version
Hand signed by Larry Vickers
Limited Edition Premium Version (Limited to 250 Books)
Personal Message Hand Written and Signed by Larry Vickers
Limited Edition Slip Case (x of 250)
Limited Edition Numbered Signature (x of 250)
BOOK SUMMARY
Picking up where the First Volume left off, Vickers Guide: WWII Germany (Volume 2) completes its coverage of the fascinating small arms developed by Nazi Germany during the Second World War. This Second Volume provides a thorough look into the war-era firearms and designs that still resonate today, such as the Sturmgewehr, FG42, MG 34, MG 42, and the last desperate weapons developed to hold off Nazi Germany's collapse.
This Second Volume of Vickers Guide: WWII Germany covers the following small-arms categories: Presentation and Engraved Pistols; Semi-Automatic Service Rifles; Select-Fire Service Rifles; Machine Guns; and Last-Ditch Weapons. Also included are a chapter covering post-war weapon derivatives and an appendix of additional firearms and oddities complementing the selection of small arms presented in these two volumes. In all, over 70 firearms and other weapons are shown in incredible detail to give enthusiasts of all levels a new appreciation for this incredibly dynamic time in firearms development.
In this book, special operations combat veteran Larry Vickers and photographer James Rupley have teamed up with a number of subject matter experts, including Ian McCollum of Forgotten Weapons, Tom Whiteman, Michael Heidler, and R.D.I. Weigt to provide additional insight into the wide variety of firearms being showcased.
Vickers Guide: WWII Germany presents this highly curated collection of firearms from the Second World War in never before seen detail on larger than life, wide format, full color prints in a linen covered hardback. Vickers Guide: WWII Germany is the next best thing to having these exceptional collector grade firearms in your own personal collection.
Vickers Guide: WWII Germany gives the firearms enthusiast an extraordinarily detailed view of this historic category of firearms.
Vickers Guide: WWII Germany will be at home on your coffee table, workbench or bookcase. It is art for your living room. It will serve as a fantastic guide for your own firearm collecting. It will make a lasting impression. Most importantly, WWII Germany will serve as a lifelong reference book.